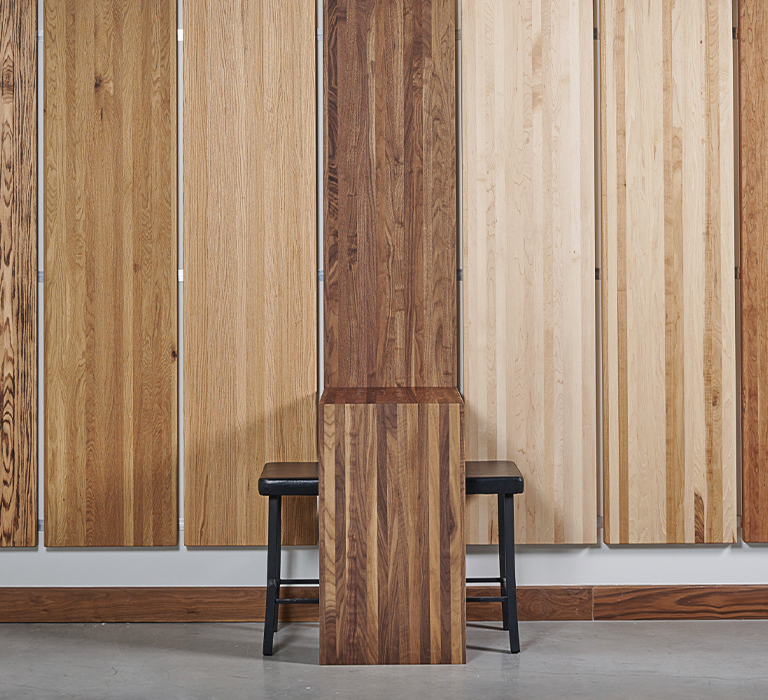 Directly from nature, butcher block countertops are biodegradable and eco-friendly bringing earthy elements into any space. Style and durability – these butcher blocks are here and guaranteed to last a lifetime.
As our company grows, Urban Quarry is proud of how we've evolved and remained leaders in the kitchen and bathroom industry by offering our customers a variety of brands and choices for their quartz countertop surfaces. And now, we've entered the world of wood.
Join us in welcoming Caribou to the Urban Quarry family!
Canadian-made, Caribou products are designed and fabricated by artisan woodworkers in Edmonton, Alberta – NSF food safe, totally waterproof, UV and chemical resistant, and virtually maintenance-free countertops perfect for home kitchens as well as commercial and office installations.
How do we do it?
The wood is cut into 2″ strips, each strip is flipped so the grains of each piece are perpendicular to each other, allowing the natural stresses of the wood to counteract each other. The pieces are glued and clamped in an eight-tonne radio frequency press. The butcher block slab is then planed, sanded, and cut to size.
All Caribou countertops have the same thickness, profile and finish. We've seen the Caribou block style used on countertops, shelving, benches, mantels, tables, and other furniture applications … the options are truly endless!
Every Caribou butcher block is uniquely designed for our customers' needs, available in seven species of domestic wood including red oak, maple, hickory, cherry, white oak, antiqued oak, and walnut.
What makes Caribou extra special?
Proprietary to Caribou, their End+Edge Technology is a treatment used to protect the wood. It creates a 100% matte sheen identical in appearance to that of a traditional oiled and waxed butcher block, but easier to maintain.
Butcher block tops instantly add rustic charm to any kitchen or space. Beyond that, Caribou is protected by a limited lifetime warranty against defects in workmanship and materials. This includes excessive warping, delaminating, and cracks in the material.
Giving back
Caribou takes a strong stance in their environmental stewardship and donates one dollar from every Caribou surface sold to One Tree Planted, a non-profit organization that plants trees throughout North America, South America, Asia and Africa. OTP started in 2014 with a mission to make it simple for everyone to do their part. One dollar = one tree planted.
We're excited to offer Caribou countertops and furniture uses to our customers, and encourage you to reach to us with your questions about our new line of wood products.