Loving Your Home Through the Pandemic and Beyond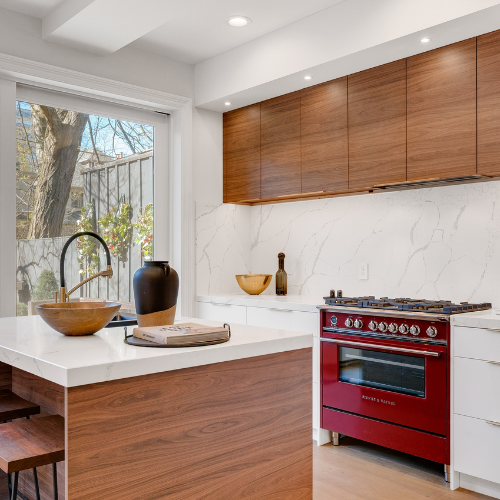 The COVID-19 pandemic has changed the world — and our relationship to our homes. As our living spaces do double and triple duty as work, school and entertainment spaces, it's become more important than ever that they function well, look great and feel like, well, home.
It's probably no surprise that comfort and functionality are the year's biggest interior design themes, as people look for a sense of calm and security to manage the stress and uncertainty of the pandemic. We're seeing a return to soft materials, organic shapes and light colours, and a general focus on quality and longevity over fleeting trends. As people spend more time indoors, they're also finding innovative ways to bring the outside in, through greenery and houseplants, natural materials and colours, and strategic layouts that make the best use of natural light.
At Urban Quarry, we've also seen that, as people become better acquainted with their living spaces, they're noticing small details that they hadn't before, like how materials, finishes and furnishings impact the amount of time we spend cleaning. There are a few materials that are more sterile than others, and we have a feeling these trendy materials will become even more popular. Here are our big three.
• Quartz is one of the hardest non-precious stones on earth. Because it's non-porous, it resists stains, scratches and bacteria without sealing, making it one of the most sanitary and low maintenance of all countertop materials. At Urban Quarry, quartz is our specialty, and we carry a huge range of high-quality countertops in every style, from classic to hyper-modern. Quartz has been popular for years, and we think the demand will only increase going forward.
• Metals such as copper, brass and bronze are naturally hygienic, with properties that inhibit microbial growth.
• Woods like bamboo, oak and cork have been known to inhibit bacteria and microbial growth. We're really starting to see wood emerge as a trend in countertop design which can act both as a compliment to quartz or by adding a touch of warmth to the space on its own. Some of the types we're currently seeing emerge for wood countertops include oak, hickory, maple, cherry and walnut.
Above all, the pandemic has shown us that the future is unpredictable. While we can't know if people will be spending more time at home when restrictions are lifted, it's clear that the collective stress has had an impact. If this year has had a silver lining, it's that it's reminded us of what's really important, and we hope the more meaningful connection to our homes and our loved ones continues to ground us in a post-pandemic world.