Get to Know Me! Peter Hibbert, Account Manager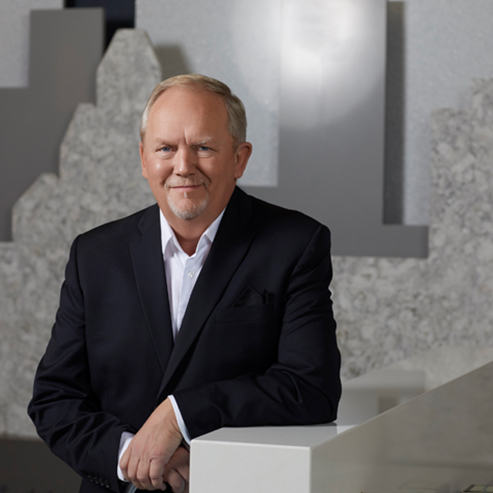 To say Peter Hibbert is well-versed in the Urban Quarry business would be an understatement. As one of our longest-standing employees, Peter knows the Urban Quarry product line like no other. In fact, he knows it so well, he has taken on a teacher role in recent years.
Peter started with us 22 years ago! That's right, 22. He started when the company was actually called Marble Unlimited, we were doing synthetic materials which then geared into granite surfaces. Peter was a Sales Representative at the time, when there were only three other employees with the company (owner Laurent and two other laborers).
Peter's role now is more of a teacher, he is able to go into kitchen and bathroom stores, and teach them how to properly sell our products, what the products are all about, and how Cambria products compare over the competition. Peter says, "A lot of people don't know the differences so it's my job to teach them to make the right choices for their designs." He's also so proud to teach them about the partnership of working with Urban Quarry – we don't look at anyone as customers, but more of a long standing partner. He has been making sure everyone is happy and taking care of their needs for decades.
Peter also organizes the tours of our showroom and workshop for people who want to learn more (this includes teachers, students, partners, and the general public). He also sets up for all events and trade shows that Urban Quarry might take part in. This is perfect for Peter whose favourite part of his job is getting to work with people. As time goes on, Peter is starting to downshift his workload  but he loves his job because it keeps him going, and getting to talk to people every day is really the best part. "It's always been an easy sell because the product is amazing – I have confidence in the product."
Peter is so passionate about his work that he volunteers his time and expertise as a member of the National Kitchen and Bath Association committee. Having known several of the members for 20+ years, Peter is in good company and relishes the opportunity to play a part in bolstering the industry.
When Peter is able to step away from work, he enjoys playing golf, camping and riding his motorcycle.
One last thing: what's his favourite design? Brittannica has the look of high end marble without the problems of marble. Doesn't stain, won't scratch.
"Brittannica was Cambria's first design that was out of the box, a little different than the norm. When it first came out, I loaded up a flatbed truck with the large Britannica sample slab, and drove it around to Cornwall and some of the surrounding area stores to show it off. People were stopping me on the road, because they were so interested to see what we were doing! Road show was a fun way to show off the new Cambria products – attention getting. PR was great!"