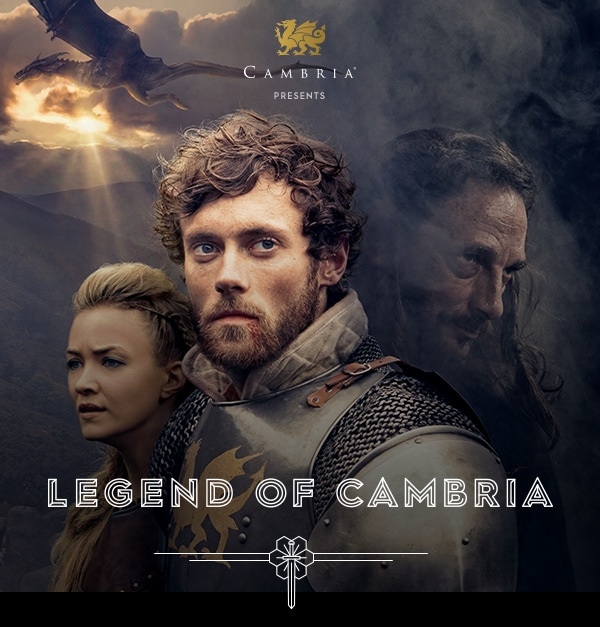 Exciting, thrilling, with smiles from ear to ear. It feels just like Christmas morning around the Urban Quarry showroom because the five latest designs from Cambria have just been revealed, and they are spectacular! Inspired by the majestic landscapes of Wales, every Cambria design is a masterpiece of natural beauty – but these new additions are really taking center stage this spring.
Warm welcomes to the newest members of the family:
Blackpool Matte. Vast and commanding, this powerful design is darkest ebony with a stealthy silken Cambria Matte finish that absorbs light like a starless night over the Irish Sea.
Bridgewater. With a firm industrial gray-blue foundation that pays tribute to the town of the same name, Bridgewater is accented with brief interludes of white amidst splashes and capillaries of darker gray.
Levven. Muscular currents of gray, black and white surge like tumbling river currents trying to break free from the determined grasp of rocky banks.
Skara Brae. Set against a bone-white marbled backdrop, bold translucent olive green veins plunge in various directions with subtle white and black tributaries interspersed throughout.
Mersey. Mersey is a deep, glassy black daubed throughout with white streaks that flash like lightening against a starless night sky.
On the footsteps of Cambria's recently released new film Legend of Cambria, narrated by the incredible actor Colin Farrell – we felt this was the best time to invite our clients and dealers to come by the Urban Quarry showroom for a private screening of the film. The movie incorporates classic literature and Welsh history to draw you into an allegory of Cambria heritage, set in otherworldly landscapes that inspire designs.
On the evening of Thursday, April 26th, we rolled out the red carpet for our guests welcoming them with two giant Oscar statues, and fun paparazzi photo moments in the spirit of a real Hollywood movie premiere. In addition to the film preview, guests were able to tour the showroom which included display slabs of the new quartz designs.
Thank you to Ulya Jensen Interiors, Laurysen Kitchens, Deslaurier Custom Cabinets, Artisan, HOK, Direct Buy, Quadecor, Cross Country Kitchens, Brunet Plumbing Supply Kitchen & Bath, Pat of Better Baths by Design, MJ'S Kitchen & Bath, and many more for coming out to take in the event. Everyone enjoyed the bubbly treats, sweet candy bar and freshly popped gourmet popcorns! If you haven't seen it yet, you can stream "Legend of Cambria" here. Until next time, that's a wrap!