What's Trending in 2018 Kitchen Countertops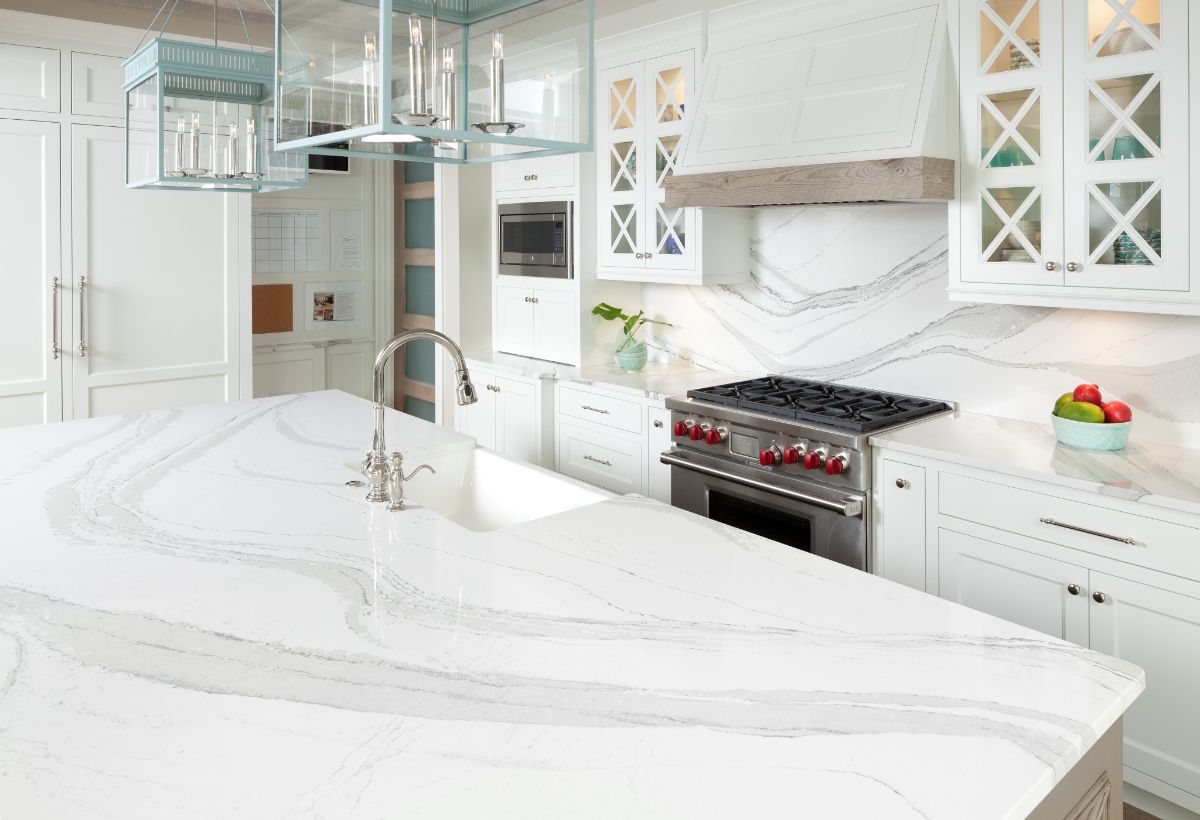 Your countertop is like the front lawn of your kitchen. It sets the stage with first impressions, it takes a beating, and it needs to be cared for. And for all these reasons, we salute the countertop with our 2018 trend predictions.
WHITE VS. WHITE
All-white kitchens may be out, but white-toned quartz will remain the favoured choice for countertops, especially with a trend towards two-toned and bold colour cabinetry, and warm wood, and brass or antique gold hardware. Granite is simply too busy when paired with these trends. Bright and warm white quartzes with subtle veining will be the preferred go-to in 2018.
GOODBUY GLOSSY FINISH
It will be MATTE finishes all the way this coming year. Countertops will feature sophisticated, honed surfaces that draw attention by virtue of not being flashy. Naturally non-reflective, a matte finish is a beautiful base from which to showcase select culinary pieces, such as vintage crockery, pots of herbs or your prized espresso machine.
SKINNY COUNTERTOP PROFILE
Minimalist design shows no signs of slowing down in 2017. Following the trend in recent years to forego upper cabinets, we see a move toward thinner-edge countertop profiles. Goodbye to chunky soapstone and granite, and waterfall treatments – hello to streamlined, understated quartz with flat edging.
MOVE TOWARDS INTEGRATED APPLIANCES
It all boils down to this – we see more people wanting their appliances built into their countertops – namely cooktops. It's slick, seamless and professional-looking, and with the addition of bells and whistles like pot-filling faucets and decorative fan hoods, it's the way of the future. And bonus! No more mystery gunk hiding between your stove and your cabinets.
QUARTZ BEYOND THE KITCHEN AND BATHROOM
With the popularity of quartz riding what seems to be an impossible high these days, it only seems probable that more and more people will begin to see its value in other parts of the home – including laundry room, rec room bar and home office. Modern, stylish, durable and non-porous – it hits all the marks!
Have fun this year with your designs! Embrace the new. Retain the classics. And the find the balance that suits you best.