Get to Know Me! Shawn McGuigan, Account Manager – Montreal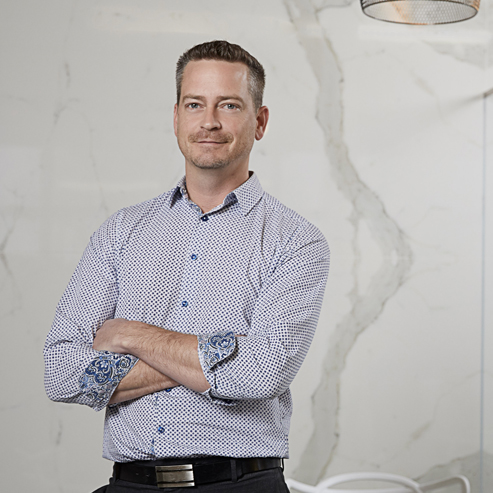 Welcome to the team, Shawn! He's an Urban Quarry Account Manager based out of Montreal, but even though we don't see him in the Ottawa office every day, he's still a huge part of our growing team.
With a Mechanical Engineering Technician diploma, Shawn is trained and experienced in sheet metal and steel fabrication problem solving covering all aspects of the trade including technical drawings, steel metal fabrication, 3D-CAD, quoting and production management. His experience took him to a few different places, and after dabbling in some software sales and a Boisbriand, Quebec company called "Think Glass" – which produces thermos-formed glass countertops – Shawn had a revelation that this could be the best industry for him to thrive in. Coming back to his one true passion, customer service, Shawn was employed by a Montreal-based company who was looking for someone to sell Cambria products. It was a perfect fit! Shawn has been working in this role for Urban Quarry since mid-October 2017 and a proud UQ team member.
His day-to-day tasks include taking care of his customers with efficiency and true professionalism – handling any and every question, and providing his customers with all necessary tools and samples – it's important for him to react to any request that comes his way because anything could be a potential lead. "If someone needs something, you tweak your schedule to make it work and ensure they have everything they need" says Shawn. His days also include cold calling, visiting old and new customers, preparing for meetings, and being present at industry related events to make his presence in Montreal known. Growing a business into a new city can certainly present its challenges – there is a lot more competition in Montreal, compared to Ottawa, and it's important to fine-tune your approach for every single account so they see the benefits of working with Urban Quarry. It's been no small task, but Shawn is working very hard and things are really starting to pick up. "We will keep pushing forward!" says Shawn.
We're so grateful to have Shawn on our team, since customer service is his strength, he is the perfect person to tackle this ambitious challenge for us. He loves working with people because he truly believes in the human connection. Shawn states, "the job has been very rewarding so far, and developing relationships is something I take great pride in. In the end, you do everything you have to do to make your customers and home-owners happy."
So what is it about Cambria that's so special? Cambria is very unique, it's a beautiful product and the highest quality product you can get. You can't find a better product than Cambria, and with Urban Quarry, you're getting a high end process from start to finish. It can be easy to convince new prospects to come on board, based on all the solid relationships we currently have with other accounts. Shawn is looking to continue to grow the Quebec side of the business in upcoming years, and has really appreciated the responsiveness, the flexibility, and support from the Ottawa team in his development so far.
Making customers happy and making Urban Quarry look good is Shawn's mantra. "Making it work no matter the time, or the schedule – we'll always make it work! I'm not scared to put the effort in." When he's not working, you can find Shawn camping or spending quality time with his two wonderful daughters. Work is important but finding the balance to be a good Dad is his top priority.
Finally Shawn, what's your favourite Cambria design? "Skara Brae is a new favourite but every time Cambria releases new designs, I have a new favourite."